January 14, 2023
Photo Exhibition in Washington DC: LGBTIQ+ in defense of Ukraine
"Injustice anywhere is a threat to justice everywhere. We are caught in an inescapable network of mutuality, tied in a single garment of destiny. Whatever affects one directly, affects all indirectly. Never again can we afford to live with the narrow, provincial 'outside agitator' idea." Dr. Martin Luther King, 1963.
Please join our opening at Ukraine House, Washington DC, on January 26 - at 5 PM (the photo exhibition will remain open until February 2).
LGBTIQ+ in defense of Ukraine
QUA - LGBTQ Ukrainians in America, in cooperation with Ukranine House, Union of the LGBT military, and KyivPride are thrilled to present a photo exhibition featuring portraits of LGBTIQ+ in defense of Ukraine. The exhibition pairs striking portraits and personal stories of Ukrainian heroes collected and translated by Dafna Rachok. It is framed as a conversation WITH extraordinary LGBTIQ+ Ukrainians who after Russia's brutal invasion on February 24 started a new life as soldiers or volunteers, joining the army or starting a humanitarian project to help their communities, thus becoming defenders of their country and people. All of them chose to stay and fight against the Russian occupation and are risking their lives for a democratic and independent Ukraine.
Our idea is to show the unity and humanity of the Ukrainian people, including the LGBTIQ+ community. LGBTIQ+ Ukrainians have always been a part of Ukraine's progress, and this fight for the survival of the nation is no different. We wish to highlight the resilience of LGBTIQ+ Ukrainian military and humanitarian volunteers. Through portraits and interviews with these heroes, as well as opening remarks from LGBTIQ+ Ukrainians and allies here in the United States during the opening event, we will bring this intersection of Ukrainian lived experience to the United States in a deeply personal way, building empathy and bridges between American and Ukrainian communities.
Opening remarks will include Viktor Pylipenko, Leader of the Ukrainian Union of the LGBT military (in the video); Bogdan Globa, President of QUA - LGBTQ Ukrainians in America; and Lenny Emson - Director of KyivPride.
PARTICIPANT BIOS
Alim Yakubov is a Ukrainian Crimean/qirimli photographer. Like many Crimean Tatars, he lived in Uzbekistan until returning to his ancestral homeland of Crimea, where he lived until 2014. Following the Russian occupation, he was forced to move to Kyiv, where he lives and works today Alim has been engaged in photography since 2012 and works with portrait photography and stock photography. Before the full-scale invasion on February 24, 2022, he traveled a lot and was particularly into street photography.
Dafna Rachok, is a Ukrainian-born scholar and Ph.D. candidate at Indiana University Bloomington. Since February 24th, she has been a full-time volunteer helping the Ukrainian war effort. She has lived in Ukraine, Hungary, Canada, and the USA.
SPECIAL THANKS
We are grateful for the support and warm cooperation of the Ukrainian House, the Ukrainian Embassy in the USA, and the Ministry of Foreign Affairs of Ukraine. Over the last few years, our community has received support and progress toward equality for LGBTIQ human rights. We hope the Ukraine government will continue this positive progress to achieve full equality for Ukrainians of all sexualities and gender identities.
We encourage everyone to follow and support the Ukrainian movement Union of the LGBT military on Instagram and their web page.
We are grateful to Ukrainian LGBTQ organizations such as KyivPride, Fulcrum, Insight, Gender Z, and others who work hard on the ground and daily basis risking their life to provide medical, humanitarian, and social help to the queer community in Ukraine.
Slava Ukraini!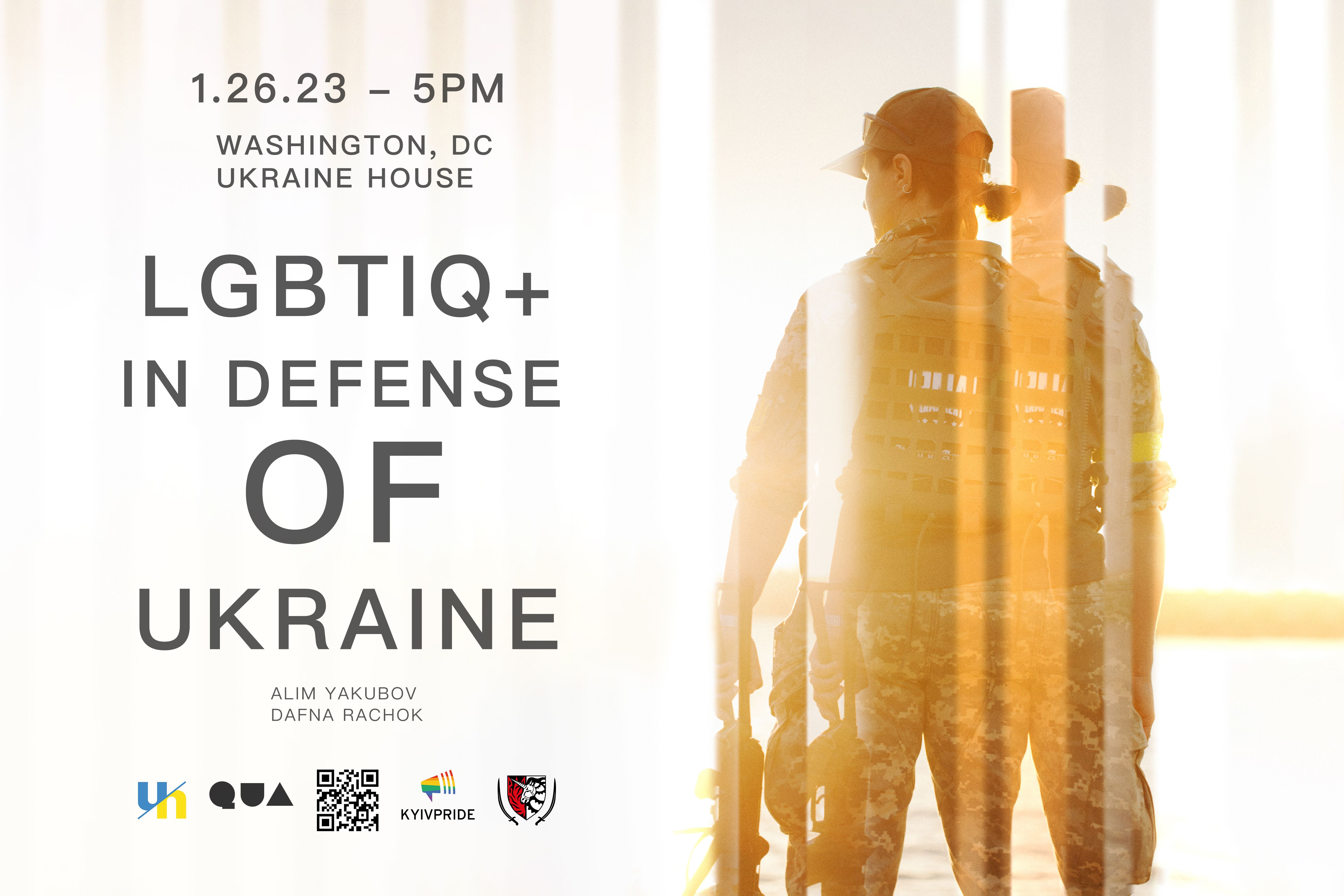 We seek to assist Ukrainian LGBTQ + individuals living in the US and Canada to integrate, adapt, and productively contribute to American society.