Bogdan Globa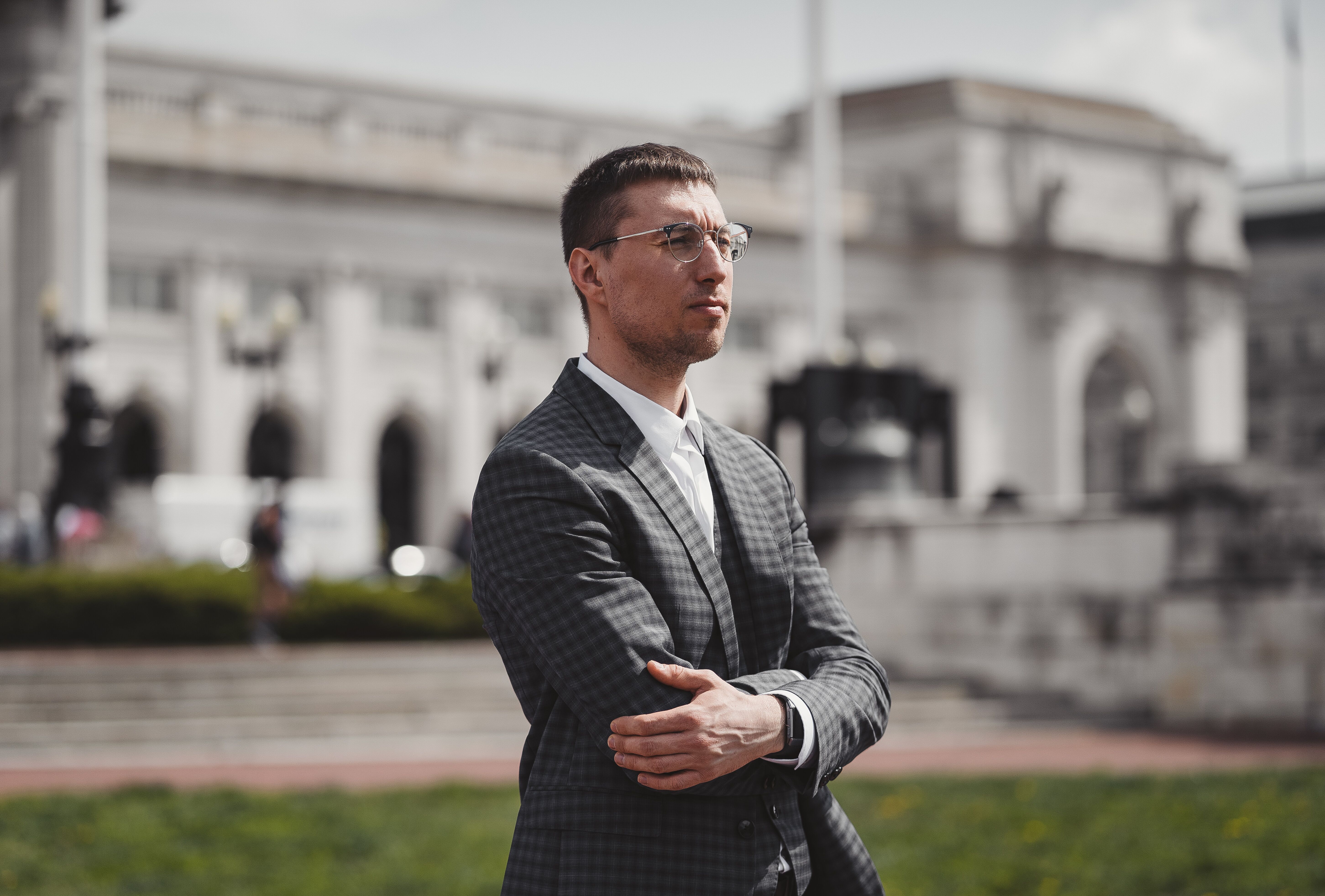 Bogdan Globa is a leading Ukrainian human and LGBTQ+ rights activist and co-founder of QUA - LGBTQ Ukrainians in America (QUA). He is currently based in New York City in the United States, where he live with his husband Harmilee Cousin III.
In 2013, Bogdan became the first openly gay person to address the Ukrainian Parliament. He was later named among Kyiv Post's 2016 list of "Top 30 under 30" young Ukrainians leading change in the country.
Early years and education
Bogdan was born in 1988 in Zachepylivka, a rural town located in the Kharkiv Oblast (Province) of Ukraine, about 200 kilometers south of the national capital, Kyiv. In 1995, his family moved to the city of Poltava. His parents were both teachers: his mother taught English and his father economic theory.
In 2011, he graduated with a Master's Degree from the Poltava University of Economics and Trade.
In 2015, he successfully completed his studies in the Management Development Program at Kyiv-Mohyla Business School, with a focus on the "Management: The Art of Making Management Decisions."
Life and LGBTQ+ Activities in the US
In November 2016, Brown University invited Bogdan to the United States to give a lecture on the LGBTQ+ movement in Ukraine. Due to an increasing number of death threats back home because of his visible LGBTQ+ activism, he made a difficult decision to seek political asylum in the United States.
Bogdan first settled in New York where, in 2018, he and a group of activists founded QUA, the first LGBTQ+ Ukrainian organization based in the United States. QUA's mission is to provide advocacy, support and a platform to share experiences for LGBTQ+ Ukrainians living in the United States.
In February 2019, Bogdan co-organized and participated in "Global LGBT Civil Rights Policy: Implications of the 2018 Midterm Rainbow Wave," a panel discussion held at Georgetown University's McCourt School of Public Policy. Bogdan was joined by his mother, Olena Globa, who was also the leader of TERGO, the Ukrainian movement of parents of LGBTQ+ people. Both shared their perspectives on human rights in the new reality.
In March 2019, the Georgetown Public Policy Review academic journal published his opinion piece, "How Russia exports homophobia into Ukraine."
At World Pride in June 2019, Bogdan organized the first Ukrainian contingent to participate in the annual New York City Pride March – one of the world's largest LGBTQ+ pride events. Georgian and Belarusian LGBTQ activists joined as well, alongside special guests from TERGO.
On June 27, 2019, Bogdan co-organized a panel discussion on Capitol Hill in Washington, D.C. Entitled "Human Rights for the LGBTQ Community in New Political Realities – New Challenges or Opportunities?" the panel included members of the Congressional LGBT Equality Caucus, Congressional staffers and the visiting TERGO delegation.
As part of QUA's human rights activity and promoting cultural exchange between Ukraine and the United States, Bogdan helped to arrange a panel discussion at Georgetown University with Maksym Nefyodov, First Deputy Minister of Economic Development and Trade of Ukraine. He also assisted with several events and public discussions about the current situation for LGBTQ+ rights in Ukraine at New York University and Columbia University in New York. Columbia University's Harriman Institute later published a work arising from one of those conversations, entitled The Politics of Anti-LGBTQ Propaganda in Russia and Ukraine.
In March 2020, QUA was officially registered as a tax-exempt U.S. non-governmental organization, based in Washington D.C.
On January 7, Bogdan Globa married Harmilee Cousin III an online ceremony in the Washington District of Columbia. Their wedding ceremonies were performed by Hon. Julie R Breslow Magistrate Judge, District of Columbia Superior Court in a small private ceremony with close friends.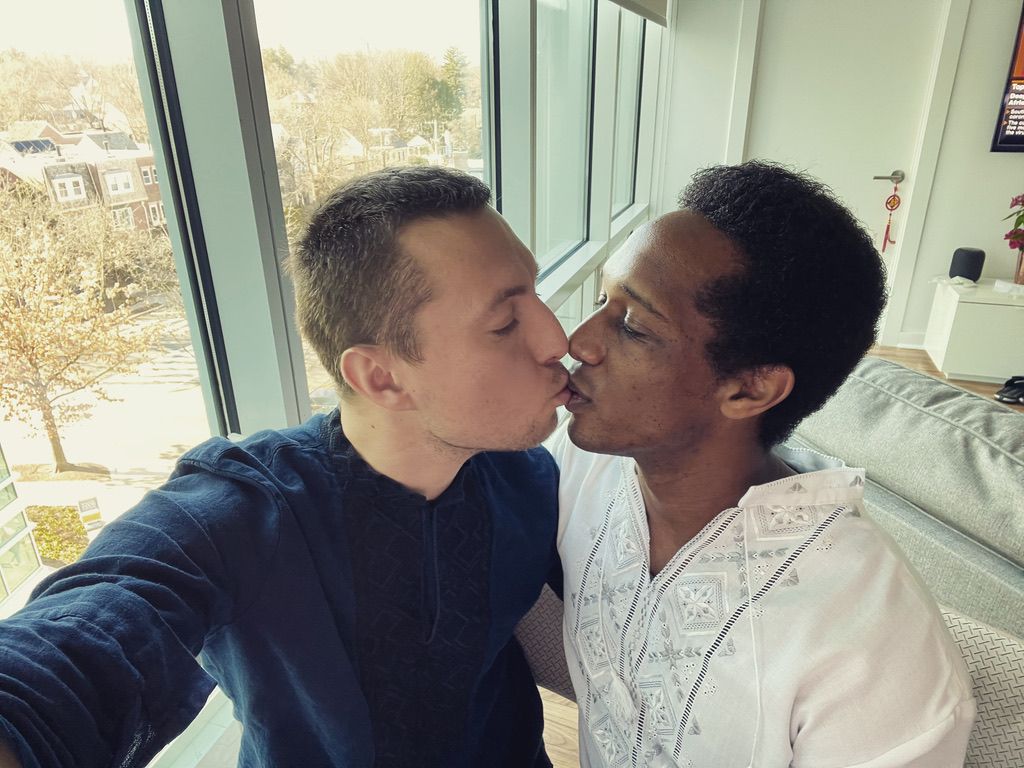 LGBTQ-activism
At the age of 15, Bogdan came out as gay to his parents, who reacted with rejection and hostility. He was forced to leave home. This was the start of his independent life and focus on advocating for human rights, especially for LGBTQ+ Ukrainians.
In 2004, Ukraine's Orange Revolution inspired Bogdan to become more active in the human rights sphere, based on his belief that people themselves can and must be agents of change.
In 2006, Bogdan moved to Kyiv where he connected with local LGBTQ+ activists and became involved in human rights activism.
In 2009, Bogdan co-founded Fulcrum, a Ukrainian human rights non-governmental organization. He initially served as the organization's Financial Director and subsequently as its Executive Director.
In 2012, Bogdan was selected to participate in a special training course on "Advocacy of LGBT Rights in the USA," sponsored by the US State Department's Bureau for Educational and Cultural Affairs. Upon returning to Ukraine, he spearheaded several initiatives, including:
TERGO, the movement led by Ukrainian parents of LGBT+ children
Ukrainian Corporate Equality Index, the country's first-ever open survey and ranking of businesses and organizations by LGBTQ+ policies and practices
Friendly Doctor, an innovative digital platform that provides accessible and friendly medical services to LGBTQ+ people throughout Ukraine
Bogdan also began to work with elected officials nationwide to support legislation aimed at protecting and advancing LGBTQ+ rights and freedoms.
On November 7, 2013, Bogdan became the first openly gay person to address the Verkhovna Rada, the Ukrainian national parliament, on the proposed plans for European integration and anti-discrimination law. The Ukrainian Parliament eventually voted to ban discrimination based on sexual orientation and gender identity in 2016.
On July 23, 2014, Bogdan spoke in Parliament on LGBTQ+ rights in Ukraine.
In December 2014, Bogdan became a volunteer Assistant to the Head of the Human Rights Committee, MP Hryhoriy Nemyria. He actively worked to raise awareness surrounding LGBTQ+ issues, including anti-discrimination measures in line with European Union standards.
Bogdan continues to advocate for LGBTQ+ equality, further anti-discrimination protections and the recognition of same-sex civil partnerships in Ukraine. Political and public activity
Bogdan was an active leader in the Euromaidan movement and Revolution of Dignity in Ukraine (2013 – 2014). He called on the LGBTQ+ community to participate in the Revolution under the flag of the European Union instead of the rainbow flag to maintain broader unity and avoid any factional split. He also opposed a direct provocation of pro-Russian forces that attempted to use anti-LGBTQ+ propaganda to splinter the Euromaidan movement.
On January 14, 2014, in protest of a fake "gay parade" designed to undermine the Euromaidan movement, Bogdan organized a peaceful action near the office of Ukrainian Choice, the organization that had helped to coordinate the provocation. During the action, Bogdan and fellow activists attempted to present the organization's leader, Viktor Medvedchuk, with a fake ceremonial certificate entitled "For his significant contribution to the development of the LGBT movement." The certificate also featured the famous photo of the kiss between Erich Honecker and Leonid Brezhnev. The symbolic gesture was designed to call attention to a recent law prohibiting "Homosexual Propaganda," which the Ukrainian Parliament adopted upon its first reading and which formed part of several dictatorial laws passed under ousted President Viktor Yanukovych.
In November 2015, as part of his work as Assistant to the Head of the Human Rights Committee, Bogdan was elected Secretary of an expert council. He also championed an amendment to Ukraine's Labor Law that would prohibit workplace discrimination based on sexual orientation and gender identity. On November 12, to celebrate passage of the amended law, Bogdan, together with MPs Svitlana Zalishchuk and Mustafa Nayyem, hung a banner on the balcony of the Ukrainian Parliament bearing the words "Equality for All" and the logo of the Human Rights Campaign – the prominent U.S. LGBTQ+ rights organization.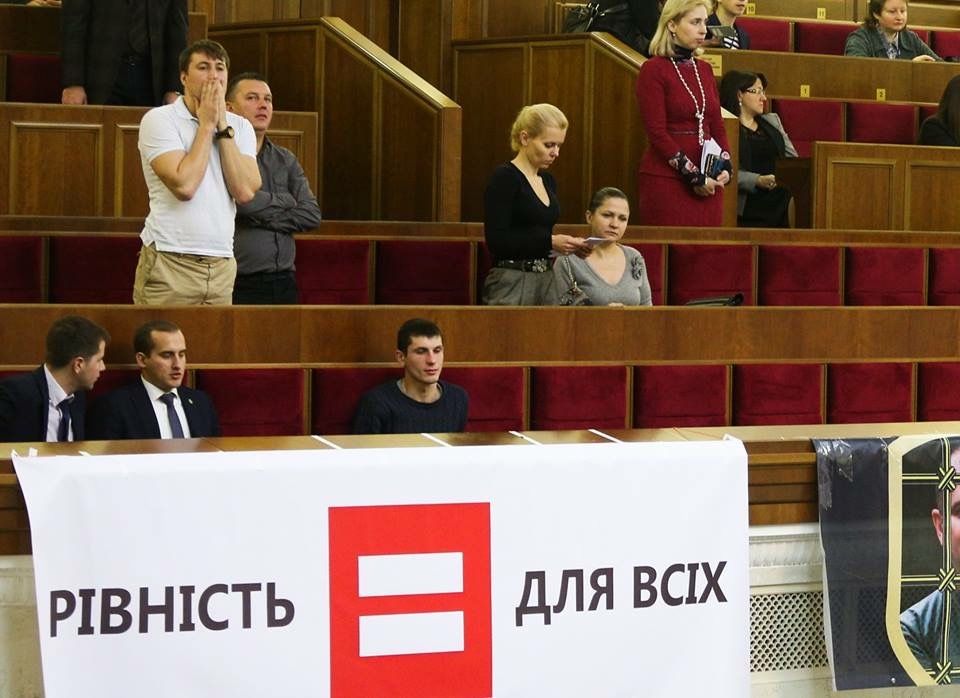 Bogdan and the Democratic Alliance
In June 2014, a public conflict broke out between Bogdan and the Democratic Alliance Party in Ukraine, arising when the party rejected his application for membership due to his LGBT activism. The party's position was that his activism contradicted its Christian values. Bogdan then published correspondence with the party's Deputy Head on his Facebook page, igniting a follow-up discussion that went viral. Many supporters of the Democratic Alliance were surprised to discover the party's Christian ideology and opposition to key issues such as same-sex marriages and legal abortion. Prior to the open conflict with Bogdan, the party had positioned itself as a democratic, pro-European party.
At the press conference organized to address the conflict, Vasyl Gatsko, the head of Democratic Alliance party, commented: "The philosophy of the party assumes that family is a union of a man and a woman. At the same time, we do not deny and do not mind that other forms of life are possible."
On May 26, 2015, a district court in Kyiv agreed to hear a case brought by Bogdan against the Democratic Alliance, claiming discrimination based on sexual orientation. This case is currently pending before the European Court of Human Rights.
We seek to assist Ukrainian LGBTQ + individuals living in the US and Canada to integrate, adapt, and productively contribute to American society.