Activists of the human rights organization Kyiv Pride during the war times support the LGBT+ community, raise money for the army, and work on the media front.
The organizers of the Ukrainian Equality March did not sit idly by, but rushed to work on the volunteer front and covered many areas - from financial support to animal welfare. SMM Manager Maksym Potapovych spoke in more detail about KyivPride's activities during the Russian invasion of Ukraine.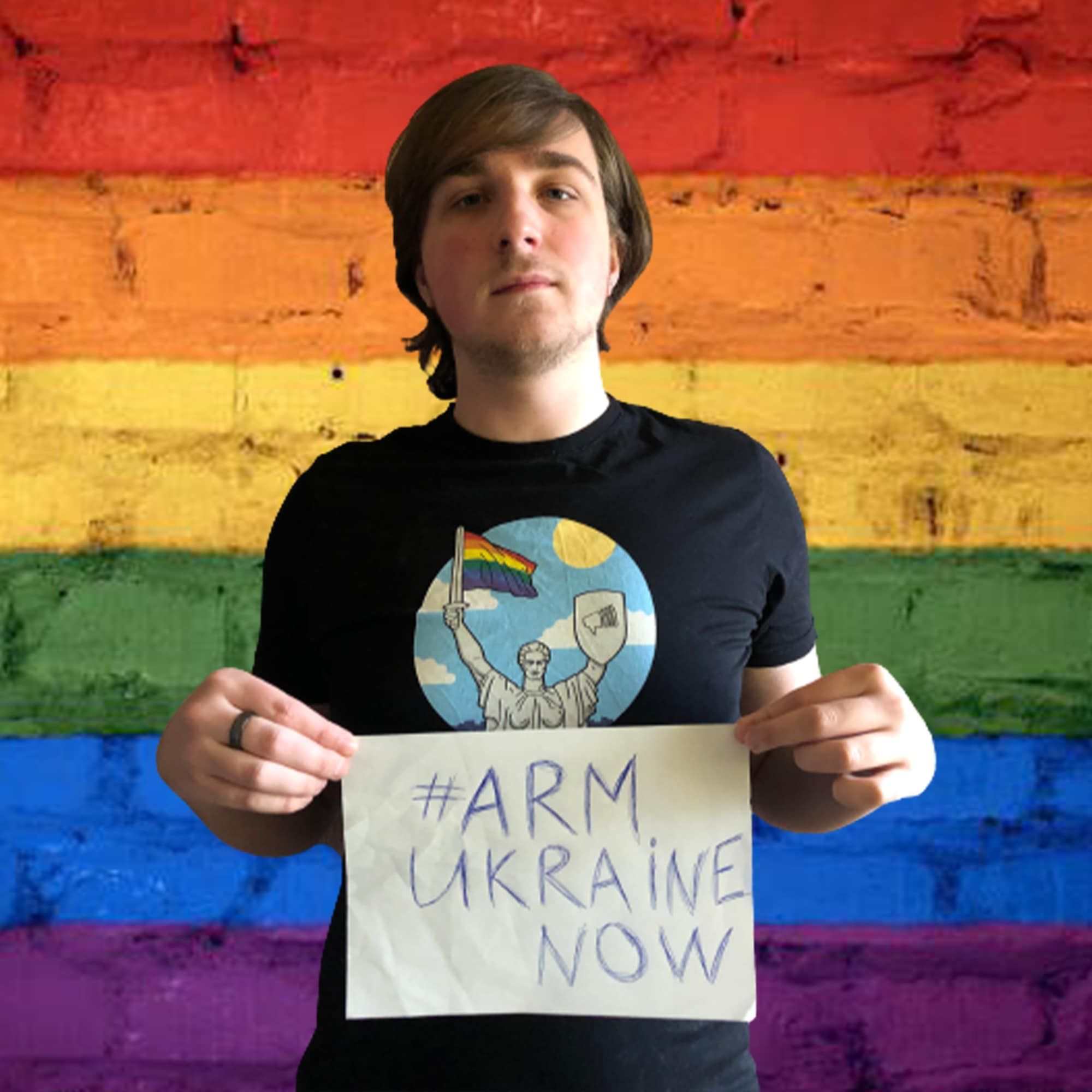 Before the start of the full-scale war, we had a wide front of works - primarily human rights and information activities. We organized events, taught the police to work properly with LGBT+ people, and interacted with Ukrainian businesses. We created the KyivPride mobile app with a map of Kyiv's friendly places, and last year we held the KyivPrideAwards for the first time, honoring the media, businesses, opinion leaders, stars, and politicians for supporting the community.
Kyivpride advocates for draft laws, including those that deal with anti-discrimination and intolerance crimes. On December 10, 2021, on International Human Rights Day, together with the human rights organization Amnesty International, we lit up the building of the Kyiv City State Administration with rainbow colors. And, of course, we are the organizers of the Equality March, which has been held in Kyiv for six years in a row. We had grand plans for 2022 and wanted to gather 10,000 participants, but war intervened.
The Ukrainian LGBT+ community was not left alone during the war
As KyivPride's activities involve cooperation with foreign organizations and embassies, 2-3 weeks before the invasion, we began receiving offers to evacuate abroad. But we rejected them because we did not believe until the last minute that the war would begin. In addition, we wanted to work in Ukraine. Therefore, on February 24, the KyivPride team gathered at Zoom to discuss what we can do for the LGBT+ community now.
As in the days of the pandemic, KyivPride's social media channels have become a platform for gathering official information. We continued to spread the verified news and called not to believe the fakes. We immediately organized a private chat for LGBT+ people, where you can get help with finding accommodation and work, evacuation, finding medicine, and hormonal drugs. Now the chat has 350 participants.
We collect and process initiatives of foreign colleagues who are ready to host our refugees. We are currently receiving many offers from Great Britain, Poland, Germany, the USA, and Canada. Those wishing to evacuate abroad can fill out a Google form, and we will provide them with information and contacts of volunteers. We have already helped hundreds of people find accommodation and transportation to reach their destination.
International LGBT+ organizations are actively raising money for us. For example, EuroPride (a coalition of all European prides) raised 70,000 euros for KyivPride and KharkivPride. And these are not our only partners. We spend the money we get on volunteering and providing targeted financial support to those members of the Ukrainian LGBT+ community who lost their income due to the war. So far, 650 people have received help - money, food, medicine, etc. We care not only about people: we cooperated with the Adopt Don't Stop animal protection organization, bought carriers for them, and helped transport the animals to safe places.
We are actively cooperating with LGBT+ organization Gay Alliance Ukraine and together with them, we have opened a shelter for LGBT+ people and their relatives in Kyiv. It is useful for those who travel through Kyiv in transit to the western parts of the country and need a free place to stay. We also reformatted our office into a temporary shelter. It is not very comfortable but we cooperated with the Berlin organization of Ukrainians, which helped us buy sleeping bags and other equipment. Some people already live there. Finally, from the beginning of the invasion, we conducted psychotherapy sessions for the community almost every day. Our volunteer psychologists help to overcome panic and anxiety, which, unfortunately, have become an integral part of our life today.
Everyone does their job - as a community and on a personal level
We can't take machine guns and go to war, but every member of KyivPride has found their places in this war. Our director Lenny Emson was in Canada at the time of the invasion due to medical issues, but he returned to Ukraine specifically and began to actively help - deliver food and medicine to the liberated settlements of the Kyiv region. Oksana Solonska, a media and communications manager and project coordinator, lived in the subway for the first week, but then realized she couldn't do it anymore and went to the station to help unload and pack humanitarian aid. Project assistant Edward Reese, who is currently in Copenhagen, is working with LGBT+ organizations in Denmark to help raise funds for Ukraine.
Together we try to support the army and the territorial defense. Our colleague, an LGBT+ activist, volunteered for the front, so we bought him a bulletproof vest, helmet, and other clothes. We also bought smartphones and radio sets for his fellow soldiers. We gave our own radio sets to local territorial defense. We used them during the Equality March, now they will be more useful in hands of territorial defense. Some of the donations that we receive from foreign colleagues are sent to the Come Back Alive Foundation. Fighting on the media front
As KyivPride is a human rights organization, we are often asked to comment on the situation in Ukraine and how the Ukrainian LGBT+ community is experiencing the war. Our primary goal is to show that Ukraine is a democracy. Unfortunately, global events, such as the war, raise all unsolved issues, including homophobia and transphobia. Recently, European media published the story of a transgender singer from Ukraine, who began to level our work on forming a positive image of the country, providing inaccurate information about the living conditions of the local transgender community. We worked hard on the counter-front to refute and show the real situation. It was important for us that the world did not think of Ukraine as a homophobic racist hell.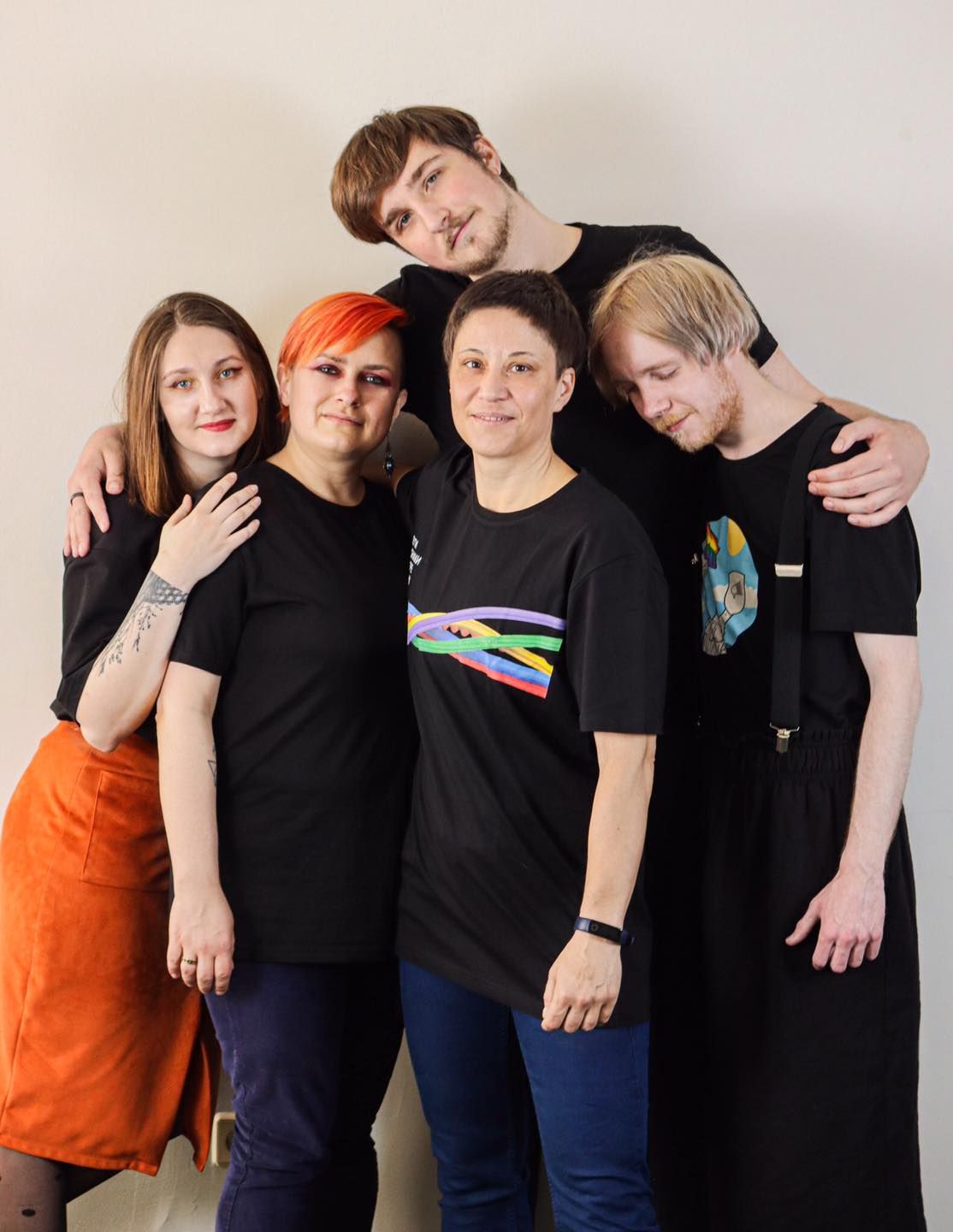 Unfortunately, I must admit that cases of homophobia still occur. There are very unpleasant stories about the conflicts between the territorial defense and the LGBT+ community. If we have been advising the police for seven years on how to treat LGBT+ people properly, the territorial defense forces are not very aware of this. But we plan to get in touch with them in the near future and work on issues related to transgender people. We want our defenders to understand that if a person looks a certain way, and in the documents, they have another gender marker, it is normal.
But at the same time, we see a lot of positive changes in society. As a social media manager, I started collecting LGBT+ stories of people who are currently at war, defending or volunteering, and publishing them on our pages. One of these tiktok videos had 700,000 views, and if you check the comments, you will see a lot of positives. People write that they used to be neutral or even negative about us, but now they see that we are great. In 2014, there were no LGBT+ organizations and the activities of the community were not covered, although LGBT+ people were on Maidan and in an anti-terrorist operation. However, it is now clear that the community is also defending Ukraine and volunteering. It doesn't matter what group you belong to - if you do something to win, you're great. I believe that it will be much easier to gain our rights after the war.
It is important to remain visible even during the war
June is Pride Month, celebrated by all LGBT+ organizations around the world. Even in the current situation, we will not stay aside, we plan to hold a number of events for the community - both online and in our Kyiv shelter. Under any circumstances, we must find an opportunity to be together and show that we have a progressive country. The issue of support for the LGBT+ community by the state, including the issue of safe prides, is in the EU membership questionnaire, so KyivPride is helping Ukraine get closer to Europe.
We seek to assist Ukrainian LGBTQ + individuals living in the US and Canada to integrate, adapt, and productively contribute to American society.