The United States' political asylum system is in a deep coma. Despite the efforts of several state actors to improve the system, the problem is spiraling out of control. According to the latest information from Homeland Security, the asylum applications backlog (i.e. - all cases that have not been considered as of February 2018) reached more than 350 thousand cases. In June 2020 local USCIS offices started holding interviews again after a lengthy closure due to the COVID-19 pandemic and quarantine lockdowns. However, approximately 9,000 to 12,000 cases lost the opportunity for their interviews in 2020. The capacity to process asylum applications is approximately 2,000 to 4,000 interviews per month, which is between 24,000 and 48,000 applications per year. To put this in perspective: in 2018, 105,472 asylum cases were submitted.
In 2020, the Trump administration initiated a series of changes to the asylum process that had a significant impact on both existing asylum seekers and new applicants. In July 2020, the Office of the Citizenship and Immigration Services Ombudsman published an annual report that includes a detailed analysis of the current state of political asylum, and a summary of innovations. We have prepared for you a selection of the important items that have already been implemented or are expected to be implemented in the near future.
Current situation and statistics.
The problems in the political asylum system are not new. For example, in late 2012, the number of cases in the backlog reached 15,526, and in 2020 this figure exceeded 350,135 cases. If extraordinary measures or legislative changes are not made, most of these cases will not be considered.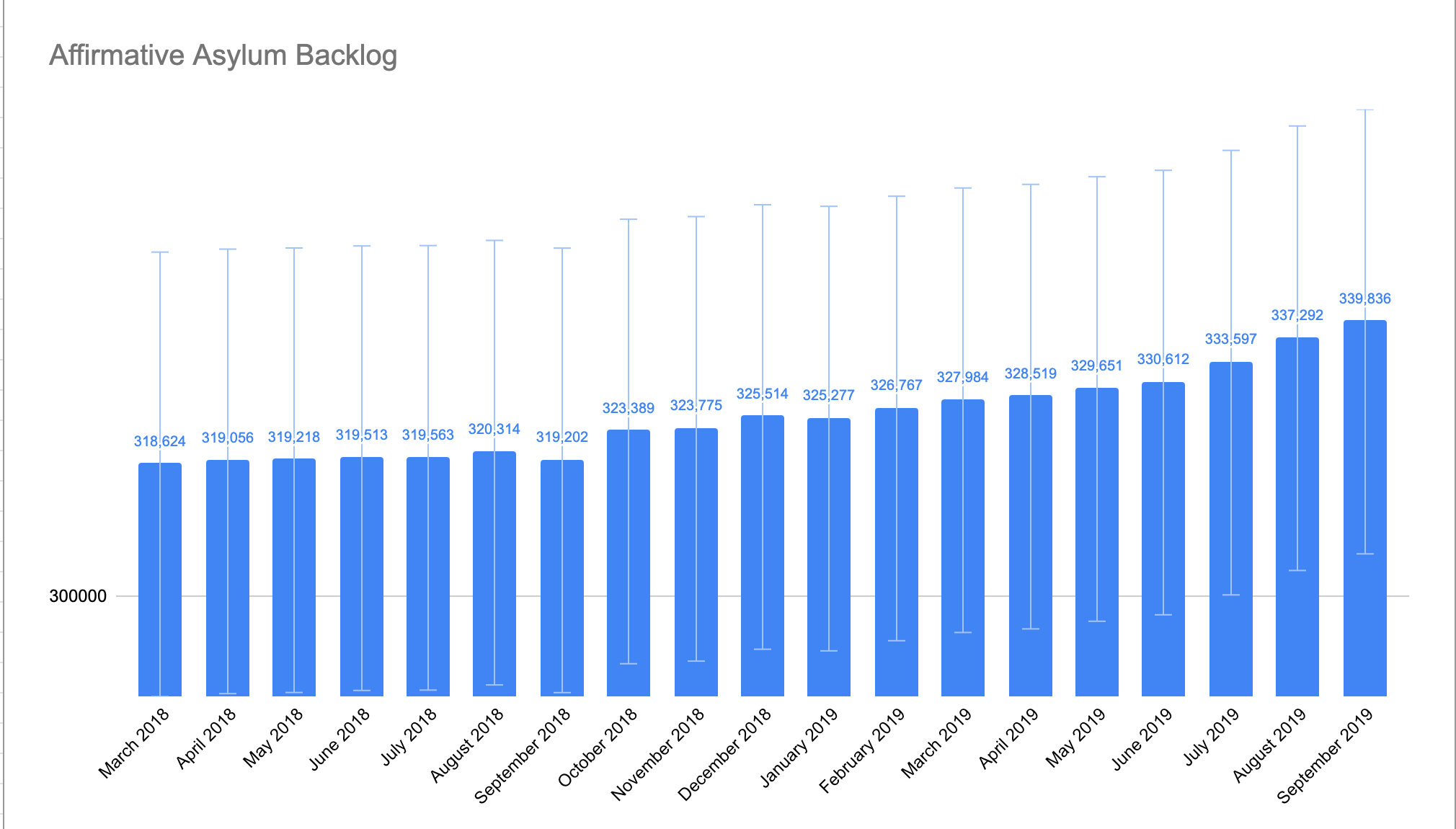 USCIS statistics highlights several trends:
The total number of applications for political asylum in the United States is gradually declining (115,356 in 2016; 139,777 in 2017; 105,472 in 2018; 60,698 in 2019; statistics are available from January through September).
The total number of backlogged cases is growing steadily (318,624 cases in March 2018; 350,135 cases in early 2020).
The monthly number of scheduled interviews is gradually declining - 6,011 interviews were conducted in October 2018, but only 2,799 interviews were conducted in September 2019.
The total number of approved asylum cases is growing. 26,509 were approved in 2017 and 38,687 cases (a 46% increase) were approved in 2018.
The number of cases approved by UCSIS increased by 61%, and the number approved by judges increased by 24%.
It should also be noted that the United States has experienced a steady uptick in the number of approved asylum cases. In 1990 the United States approved 8,472 political asylum cases and 38,687 cases were approved in 2018.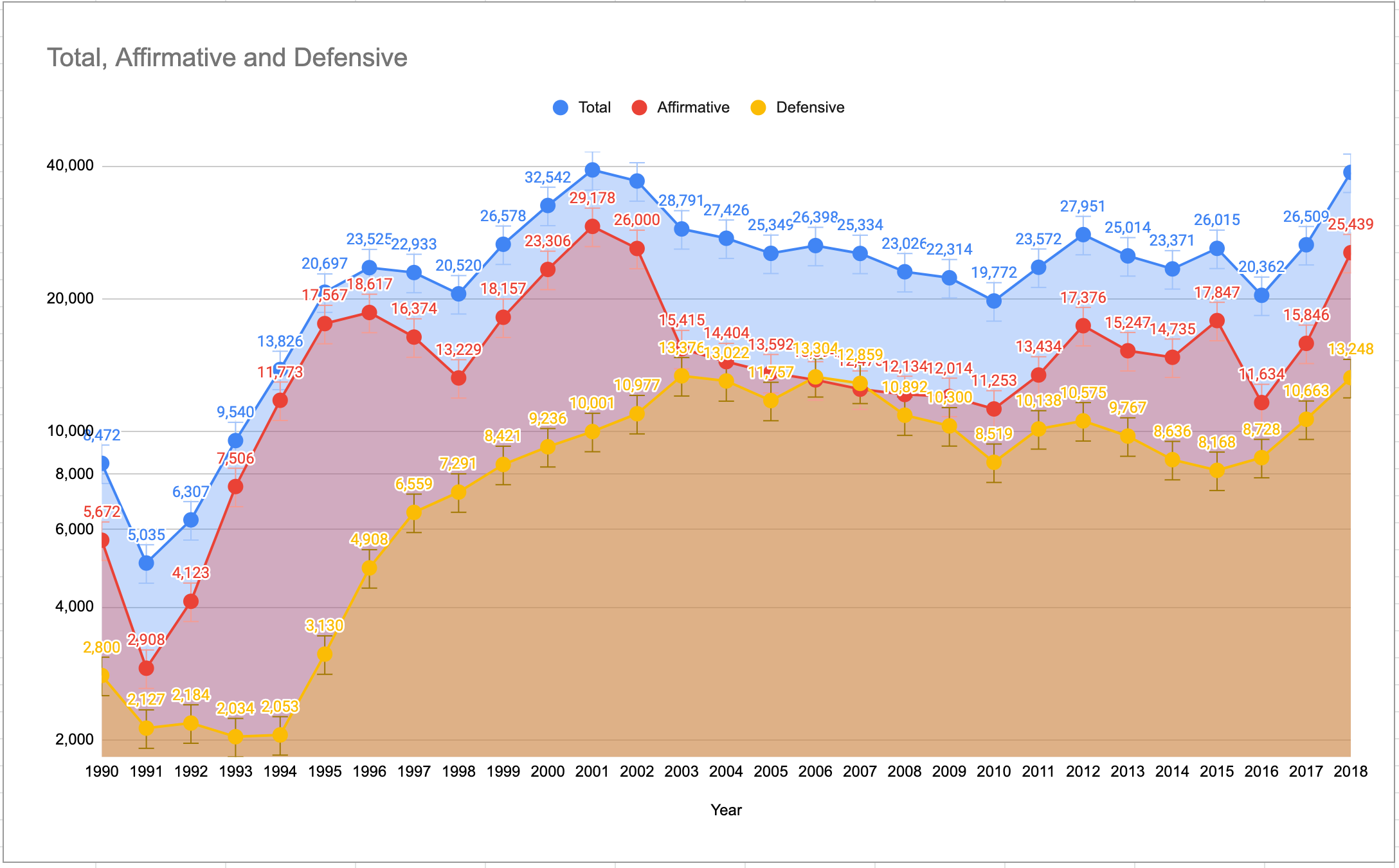 What has changed for asylum seekers in 2020:
One of the significant changes for asylum seekers was a change in the rules for obtaining and renewing employment authorization. If you submitted an Application for Asylum and for Withholding of Removal after August 25, 2020, and you were not summoned for an interview within 365 calendar days, you have the right to apply for Employment Authorization. To put this in perspective, before August 25, 2020, asylum seekers could apply for employment authorization 180 calendar days after the application for political asylum, subject to a waiting period for an interview date. USCIS extends the wait time before an asylum applicant can apply for employment authorization from 150 days to 365 calendar days.
The second significant change was the removal of the deadline for application consideration and the issuance of the card. The previous rule set 30 days for the deadline for consideration and 90 days for the issuance of the card. Under the new procedure, USCIS does not have a deadline for processing the application, which is likely to lead to the formation of a line of applicants for political asylum to obtain or renew the employment authorization.
The procedure for applying for an extension of employment authorization has also been changed, and political asylum applicants awaiting an interview date may submit a petition for an extension of the authorization 180 calendar days before its expiration (previous rule: 90 days). After the authorization expiration date, it is automatically extended for 180 calendar days, provided that the applicant has submitted a petition for an extension. For more detailed and up-to-date information, as well as an updated employment authorization petition, use this official page: www.uscis.gov/i-765
New petition fees have also been set, including:
$50.00 fee for the I-589, Application for Asylum and for Withholding of Removal
$550.00 fee for the Application for Employment Authorization
NB! Note that USCIS has updated the I-765 and I-589 forms. When submitting the relevant forms, download the current forms following the above links from the official USCIS website.
COVID 2019 interview conditions
In connection with the COVID-19 pandemic, the USCIS political asylum offices changed the interview procedure, in particular:
The applicant will be in a separate room and will talk to the officer via video;
The applicant's lawyer will also be in a separate room and will be able to observe the interview;
The applicant cannot bring their own interpreter for an interview if they are unable to proceed in English. USCIS will provide asylum applicants with a free interpreter (interpretation is available in 47 languages). The temporary rule is valid until March 22, 2021. You can find the list of languages ​​available for interpretation following the link.
In this case, if you came for the interview at the specified time, and the interpreter of the requested language is not available – your interview will be shifted to another date. If you don't speak conversational English and refuse a USCIS interpreter, your case will be referred to an immigration court. If your language is not listed you can bring your own interpreter.
2021 Trends and innovations.
One of the important global initiatives is the launch of the Asylum Vetting Center (AVC). The idea of ​​creating a special national center for checking applicants for political asylum arose in 2015 as part of a U.S. Government Accountability Office (GAO) at the request of the US Congress, full report can be found following this link.
AVC is slated for launch in March 2021 and will be the main recipient of political asylum petitions I-589, Application for Asylum and for Withholding of Removal. Their staff will include 250 federal employees, 100 contractors, and 40 political asylum officers. This center will replace the Nebraska Service Center (NSC), and the AVC functionality will include:
Initial processing of I-589, pre-screening of applicants for public safety and national security threats (for example, the presence of the applicant in international databases of criminals or terrorists);
Support for national fraud investigations. In particular, reviewing text analytical data from asylum filings to identify national fraud trends and patterns, etc.
Coordination of national backlog reduction efforts, centralizing management of all files for backlogged cases, automation of the relevant process.
When AVC is running at full capacity, the part of the functions from the local officers from the USCIS will be transferred to the AVC center. In particular, security screening of the applicant will be conducted before the interview, and the relevant emigration officer will already have the results of such screening at the time of the interview.
AVC will also analyze the language in all applications (it is also anticipated that the I-589 petition will be submitted electronically through a user account by either the applicant or an authorized person) and identify similar patterns with other applications. That is, if your story matches other stories, the system will automatically mark a special investigation of your story/case.
Also, AVC will address fraud concerns after political asylum has been granted. In particular, there will be stricter electronic control over people who have been granted political asylum, for example, if you have visited the country you fled from for political asylum in the US or if you have applied as an LGBTQ representative and later had heterosexual marriage - such cases will be monitored and investigated. All these cases will get an appropriate response in accordance with the US Criminal Code.
Summary:
In the process of acquiring political asylum in the United States there are several trends:
The total number of people on the backlog is growing rapidly. In fact, the backlog is very big and this problem cannot be solved without implementing special measures. Most applicants have no chance of being interviewed. At the moment, solving the problem for the backlog and setting up the interview system requires extraordinary measures.
The USCIS office is working to digitize and automate processes. New mechanisms to combat possible abuses of the political asylum system may potentially help honest applicants.
Tips and useful resources for asylum applicants:
If you are an asylum applicant and are waiting for an interview, or in the process of preparing a package of documents, have a look at the resources we recommend you to use:
USCIS website. Here you will find all application forms (forms for political asylum and employment authorization), all relevant information, news, and updates.
If you submitted the I-589 form and got your alien number sign up for your account do where you can follow up all the important milestones of your case.
You can find your USCIS asylum office by entering your ZIP code following the link
If you have been waiting a long time for an interview, you can try to get help from your Senator or Representative. To do this, find the appropriate web page of your Congress Representative and write the petition. For example, New Yorkers can petition for support of their asylum cases through Senator Kirsten Gillibrand by following this link
If you have been in the backlog for a long time, you may try to submit a special request for an expedited interview procedure. You need to meet the social criteria for your request to be approved. You can learn more about the procedure for these requests by following this link.
Additional resources for information and news can be viewed on the blog
For legal information and clarification, visit the website of Human Rights First