My mission is to help those who need support. Public activist Anna Medko has become a "hotline" for all those who are scared of war
Public organization TERGO is a Ukrainian community of parents, relatives, and friends of LGBT people. During this difficult time, its program assistant Anna Medko took on the difficult but important function of speaking and reassuring everyone who contacts her. Anna told QUA about her current life and explained what parents of LGBT children are most worried about now.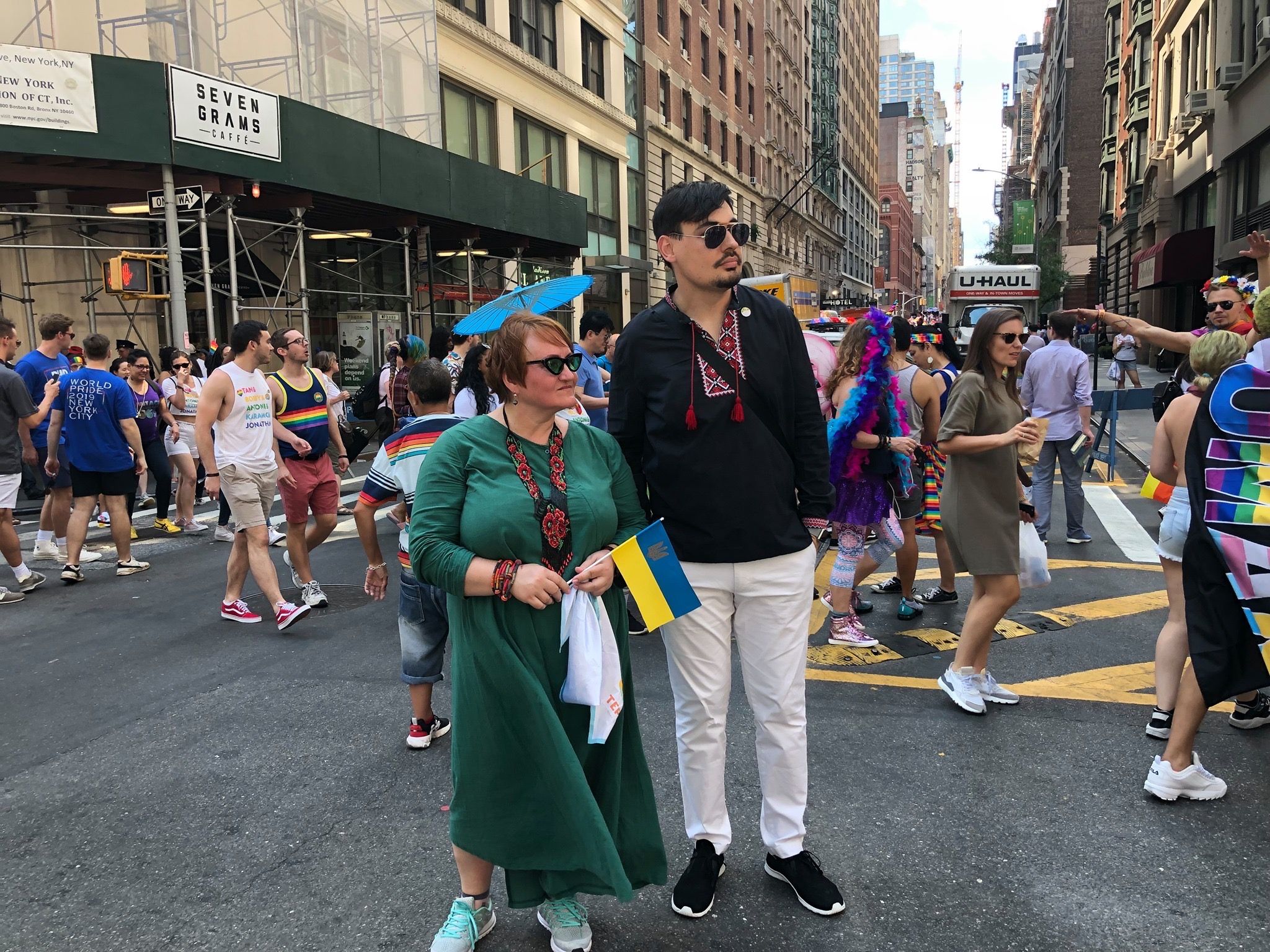 Always in touch
I did not plan to leave Kyiv, but the western part of the city where I live became dangerous. There have been a lot of shellings there recently, and it is impossible to hold crisis consultations in such conditions. So I moved to Lviv. My main mission now is to help those who need support. My phone number can be easily found on the TERGO Facebook page, and now I get calls from people who need consolation, want to talk to someone, and feel that they are not alone. Not only the parents and relatives of LGBT people are calling - our main audience ordinary people suffering from the war. These are those who are in the war zone, who have lost their homes, want to evacuate, or who are just scared. I talk to everyone. We can cry together, and breathe, I try to comfort them as much as I can.
Now there are more cases of panic attacks: a person calls and just can't breathe. Here the main thing is to correctly bring them out of this state and help, albeit virtually. I'm not saying "hang on" because it's wrong. You have to say: "I'm with you, I'm near, let's talk, tell me about your difficulties". Many people feel guilty for being in a safe place, and this concern needs to be addressed.
I do not have the skills of a psychologist, I am a certified trainer by my profession but I developed "Peer to peer" psychological trainings for TERGO. People do not always need a specialist. Before the war, we were often approached by parents of LGBT people who had just come out, asking to talk to someone. We have always offered two options - a conversation with a professional psychologist or with other parents who have already gone through all the stages of acceptance. They chose mostly the latter because their own experience is sometimes much more important than the help of a psychologist who can not feel your pain and has never been in your place.
Before the invasion, we planned training with paramedics, which was to take place on February 24. To do this, we created a separate page on Facebook and chat. I still continue to use them to communicate with our parents, post useful information there, and support everyone who signed up. It's a must for me to check the chat in the morning, share the latest news, information on evacuation, etc. I know where our parents are, who of them left, who stayed. All of us, especially activists, try to encourage each other, ask if anyone needs help, and share useful contacts. We survive as we can. By the way, this is very similar to the situation with the pandemic - then we also supported each other, and thanks to this we survived the isolation.
What is the biggest concern of the parents?
I am approached by concerned parents of LGBT people whose children are traveling to Europe with their partners. They are worried about how they will be received there because they are not like others. For the most part, this applies to lesbian girls or transgender people with the appropriate gender marker in their documents, as men between the ages of 18 and 60 cannot leave Ukraine during the war. I explain that this is the norm in Europe. Our girls are well received as couples in Poland, the Czech Republic, and other countries. Once I got a call from the girl's parents, who found it difficult to accept her orientation, but were forced to evacuate with her partner her partner's mother. It is a very difficult situation for many now, but during the war, parents are not so much concerned with the identity of their children as they are concerned with them being safe and accepted by society.
War has no sexual orientation
I am proud not only of the Ukrainian people but also of our LGBT community, which is now doing its best to help others. Even those who left their cities immediately began volunteering and continued to be useful. The guys from Fulcrum, a non-governmental organization that supports LGBT+ people, opened several shelters in Lviv. By the way, they sheltered me. Different people live in these shelters, they are not only from the community. Both the heterosexual family and our lesbian girls cook in the same kitchen, and I don't see any conflicts or prejudices. During an air alarm, the boys open the door of the shelter for everyone, because it is located in the basement and can be used as a bomb shelter. We talk to those who come to stay during air alarm, we say that this shelter was organized by LGBT people. We ask, do you feel any difference? People say no, they are very grateful for the opportunity to be safe. I think that by the end of the war, many will understand that the LGBT community is no different from most Ukrainians.
The Armed Forces and territorial defense gladly take things brought by LGBT volunteers. This gives hope that after the war there will be no such prejudice against them. Open gays once fought in the anti-terrorist operation, and now they have returned to their units. Their brothers in arms know about their orientation and they don't have any problem with it. Yes, sometimes they joke, but these jokes are not as toxic as they used to be. In our chat, I constantly emphasize that LGBT people are fighting in this war, other participants comment on it and share this information with their friends. In this way, we raise awareness and change the image of the community.
I have been with TERGO for eight years and in activism for ten years, and I can say that we are confidently moving towards greater tolerance in society. What it all started with and what it is now are two different worlds. I see the work done by both our activists and our parents, so the world has started to treat LGBT people differently. However, much remains to be done. Pro-Russian pro-lifer organizations are now raising their heads to try to ban abortions during the war because they say it is unacceptable. It infuriates me terribly. What right do you have to decide? Is it for you to give birth under bombs? Such trends come from Russia, but we will gradually eradicate them because Ukrainians are not as brainwashed as our evil neighbors. Thirty years ago Ukraine chose to stop being the Soviet republic, and Russia never ceased to be one.
We seek to assist Ukrainian LGBTQ + individuals living in the US and Canada to integrate, adapt, and productively contribute to American society.