Roman and Anton
Roman was born and raised in a religious Greek Catholic family, hoping that homosexuality would be just a period after he realized it. Eventually, he was working as a physician in the Ukrainian nationwide LGBT health promotion project and was awarded the Fulbright Scholarship to get his MPH degree in the U.S. To be able to go to the U.S with his partner, they got married in Denmark.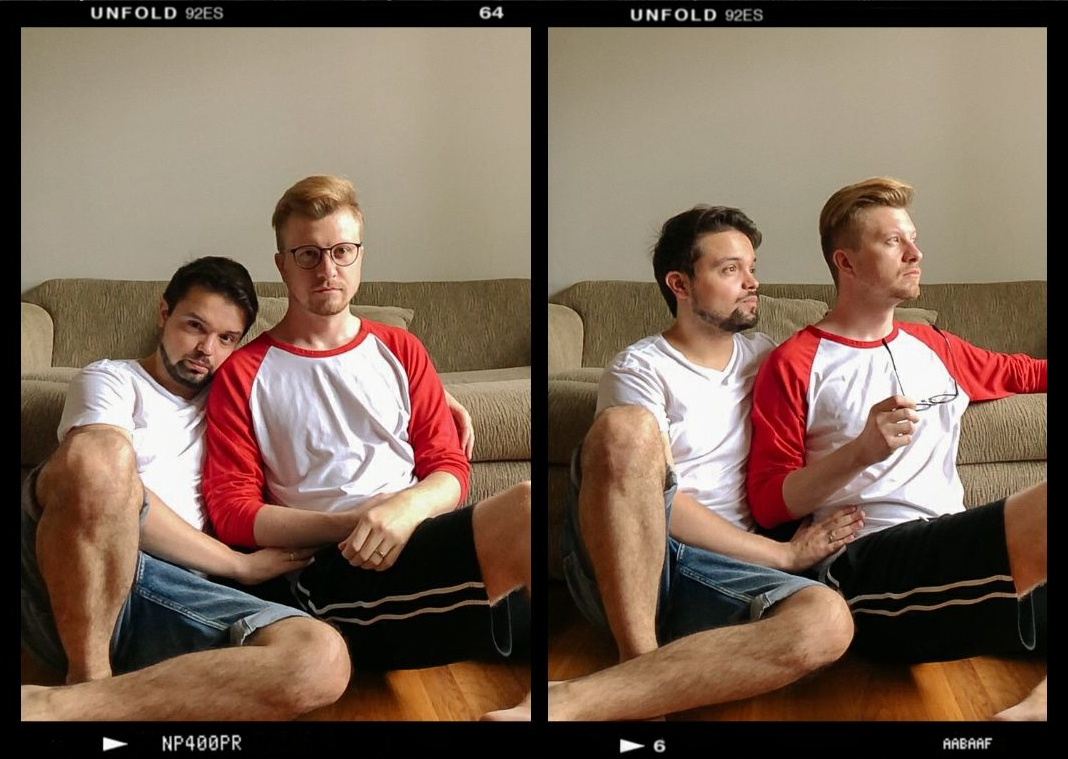 It is just a period
I was born in the Lviv region, in Novy Rozdol in a Catholic family. I don't remember exactly when I realized that I am gay, but I do remember that it was in early childhood. I had been always hiding it and even hoped that it would pass somehow.
I was admitted to the Lviv National Medical University and during the first four years of education, I was hiding my homosexuality even from myself. Only in the 4th year, I started to acknowledge that it's not just a period and found the courage to get acquainted with another guy on the Internet. It was the beginning of a long process of self-acceptance. Online dating at that time in homophobic countries was a way more complicated than we might experience today. There was a long process of conversations and safety concerns from both sides before the face photo exchange.
Eventually, I started a serious relationship I even moved in with my boyfriend. Since I was not ready to be open I did not know how to explain to my university mates my move to another part of the city. Therefore, I was hiding it for long two years making up various fake explanations why I'm heading to another part of the city.
People of Atlanta are too busy to hate.
First time I came out to my closest friend at that time. I assumed she might be friendly and she was in her own manner but it made her so shocked she got lost in her hometown right after the meeting when I told her. I never came out to other people for a long time since that day.
After graduation, I moved to Kyiv to do my residency where I also started to work as a physician in Friendly Doctor Project. Friendly Doctor Project was an NGO-based healthcare center for LGBT people, where they could get tested for HIV and STIs, make an appointment with the physician, and receive psychological support. I happened to work in an inclusive and open-minded environment which I had never experienced before in my life. I felt a strong surge of positivity. The only thing that overshadowed it was a broke up with my partner as he stayed in Lviv.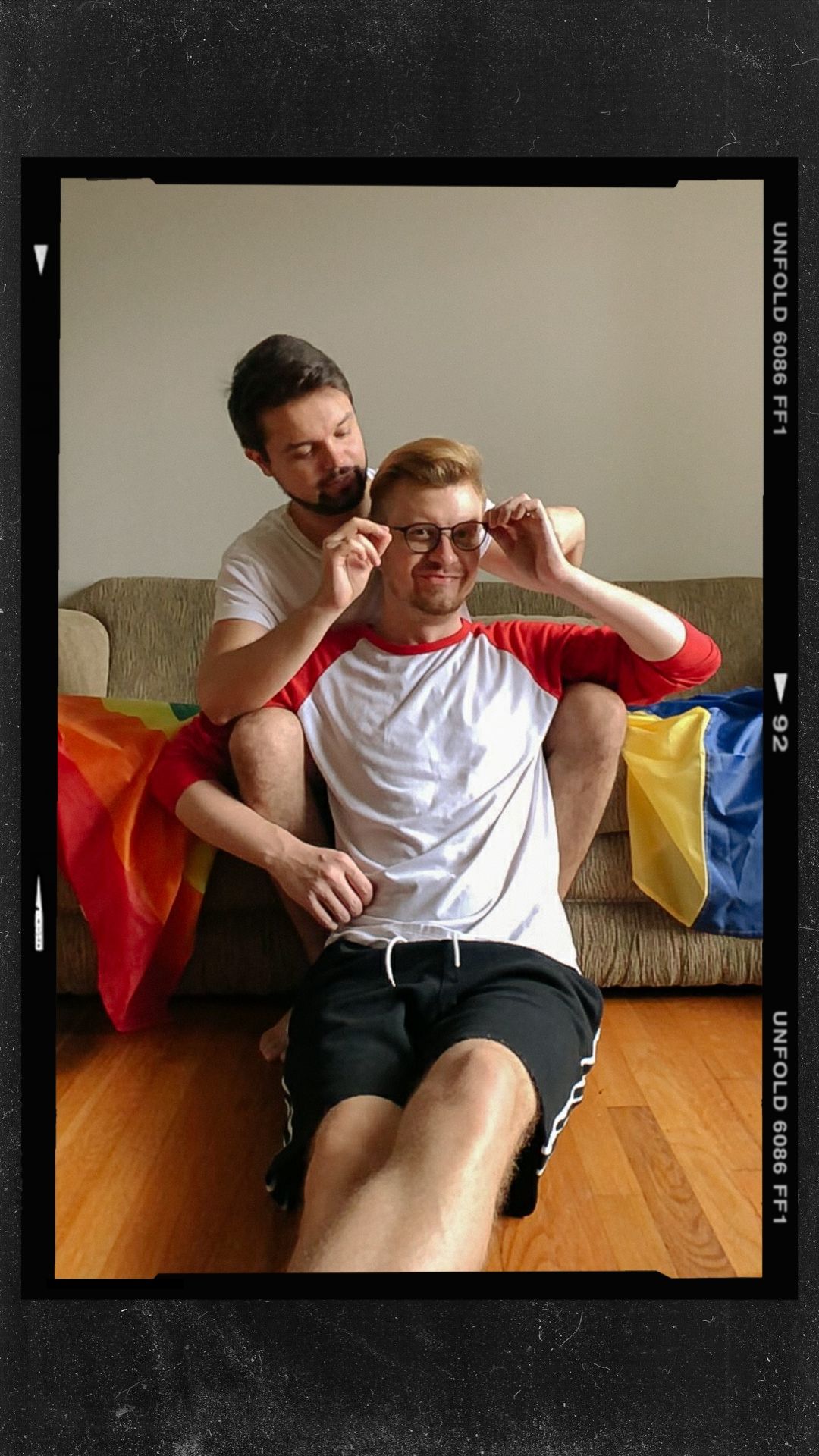 Coming out and outing
Although everyone at work and my new friends knew I was gay, I was hiding it from my family. Even from my mother, although I hoped that she would understand me. She followed me on Facebook and knew what I was working on as I share a lot of work stuff on social media. I was most worried about my grandparents' wellbeing that might be affected by knowing them that I'm gay. They are older, very religious meaning they would not be able to accept it.
Finally, I came out to my mother. Once she was sitting next to me while I was scrolling my Instagram feed. She noticed a photo of a transgender person and asked me whether I am the one as well. Slightly confused the terms. I said that I'm gay and she answered she was suspecting it for a long time. My mom was exposed to a more liberal society in Italy than the one we have in Ukraine. I assume this was the reason she was able to accept it. Together we agreed not to talk about it with my grandparents. However, I was outed. One of the relatives at the Christmas dinner where I was not present, announced everyone that he suspects me being gay due to work in the LGBT-organization. It was good that my mother was there, she was able to calm my grandmother down. Now, this topic is not raised in the family. That relative still believes that he did everything right, in a Christian way. He doesn't understand why his relationship with my mother deteriorated after that.
Then I started going to Pride, posting photos and posts about why it's important. I think my friends and subscribers already understood everything but the official coming-out happened in October 2017, when my current husband and I got engaged.
Engagement
I met Anton at work during the preparations of the organization's regional office opening in Lviv in 2013. Once I moved to Kyiv and he got to know that I broke up with my ex-boyfriend he invited me to the cinema and later we would start dating. In the beginning, I thought the relationship would be short-lived as we turned out to be very different. Only after six months, I realized that everything is getting really serious. We learned to adapt to differences of each other, although we still remain different. We moved together a year and a half later.
At the time of the engagement, we had been in a relationship for three and a half years. My friends and I went to Berlin - everyone knew about Anton's plans to make me a proposal, except me. We met two more of my colleagues in Berlin and they also took part in this conspiracy. We parted for a while: my colleagues and I went to see the shelters for LGBT teenagers, and Anton and other friends were preparing a surprise for me in a restaurant. I began to suspect something was wrong - it was already evening, and Anton was missing. Later that day I even yelled on him for being away from me during the whole day of our vacation.
Eventually, we met at the restaurant. Anton was so elegant but I was so angry that I didn't understand what was happening. Anton made a proposal in front of our friends and gave me a wedding ring and flowers. It was so touching and romantic and, of course, I was very ashamed that I shouted at him. Later that evening I made a post about engagement, it can be considered as my public coming-out. Many people wrote their congratulations and words of support.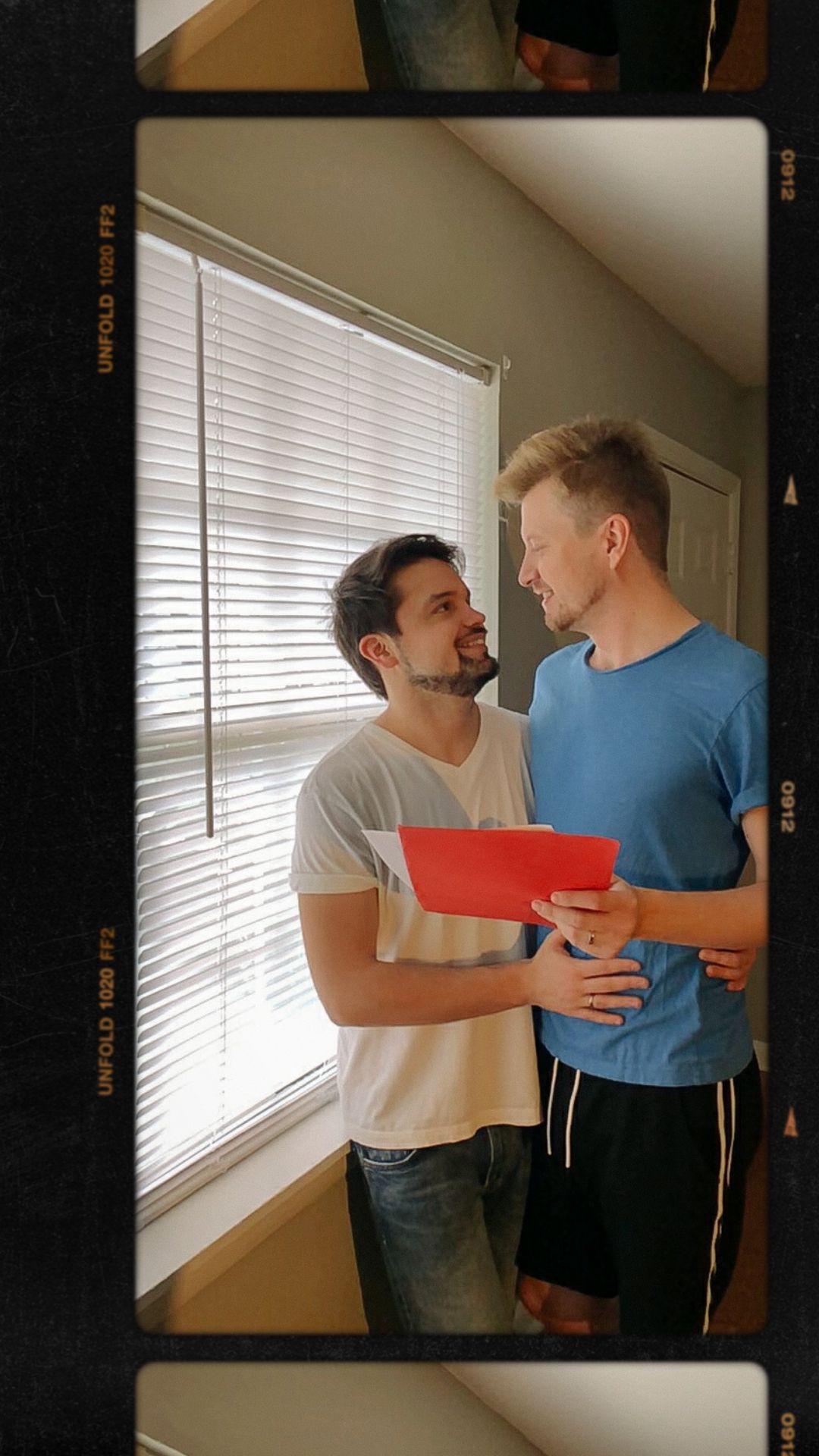 Wedding
I won a scholarship Fulbright scholarship, which is supported by the United States Government. Fulbright grantees are allowed to take their family members to the U.S. but it's required to provide wedding certificates for spouse verification. Therefore, we decided to get married officially in Denmark for more than a year after the engagement.
We submitted all of the documents to the Agency of Family Law of Denmark online and after the approval, we received a list of dates and times available for the wedding ceremony in Copenhagen City Hall. After you pick a time, it's required to come a day before and provide all of the original copies for the final verification.
The next day we arrived at the main entrance of the Copenhagen City Hall from where we were following heart-shaped signs to the wedding hall. It was very romantic. The ceremony itself was short but lovely made of a great speech on the importance of mutual cooperation in favor of family happiness. After the wedding, we took many photos at the venue and on the beach of the North Sea. It was the happiest day of my life and sometimes I still can't believe that e did it, cause it seemed so unreal for both of us.
Moving to the U.S.
With our newly issued Marriage Certificate, Fulbright office was able to verify Anton as my husband and we got our visas. In August 2019 Atlanta has become our new temporary home This city is an island of liberalism surrounded by "Trumpland". Martin Luther King was born here, so the locals consider it an honor to oppose xenophobia, racism, and homophobia. Atlanta's motto: "We are too busy to hate."
There is a thriving cultural life for LGBT people, including community centers, theme bars, restaurants, and cafes. Only "rainbow" streets solely can make you feel welcomed. There are plenty of places where you can enjoy the community engagement.
However, the state of Georgia, is not too democratic and not too liberal. University campuses are mainly liberal and academic communities value inclusivity the most. On the other hand, in rural areas, America is far from our ideas about the country of dreams. So I would not risk expressing my feelings with Anton publicly outside the city or in remote areas of Atlanta.
Of course, we visited New York. This is a unique place. I hope he will get to be this after the pandemic. Without a doubt, this is the capital of the world and its greatest value is that people from different cultures and different nationalities manage to live there as one community. Diversity is noticeable everywhere in NYC, but at the same time, there is something that unites all these people. That is such a pleasure to observe this diversity in all aspects of life without visible racial and ethnic segregation at lease visible to the naked eye.
In university life, which is significantly liberal than some parts of the U.S., there are no problems with orientation. I don't even feel like a member of any particular or discriminated group. In Ukraine, during my studies and internships, I remained to be "in the closet" because there were constant surrounding signals that homosexuality was condemned and I would never know how it would have affected me if I had been openly gay at the time. However, being "closed" certainly required a psychological and emotional resource to continue remaining in the shadows. It is difficult to say what the situation is now, compared to 2014, social norms could gradually begin to change. After all, we now have our own internal sources of positive information about LGBT people.
Future
Lately, we have been thinking more about our own children. Especially while we look at same-sex couples with children around us in Atlanta. But we are in the United States temporarily and plan to return to Ukraine after my studies. And in Ukraine, the situation with adoption is more complicated, but for some people, it works out!
The scenario of the birth of a child together with a lesbian couple seems to us to be the most common these days. But I like the idea of adoption and talk about it carefully with Anton. I do not consider surrogacy yet. When you use the method of surrogacy, you do not make the world a better place as opposed to when you adopt a child.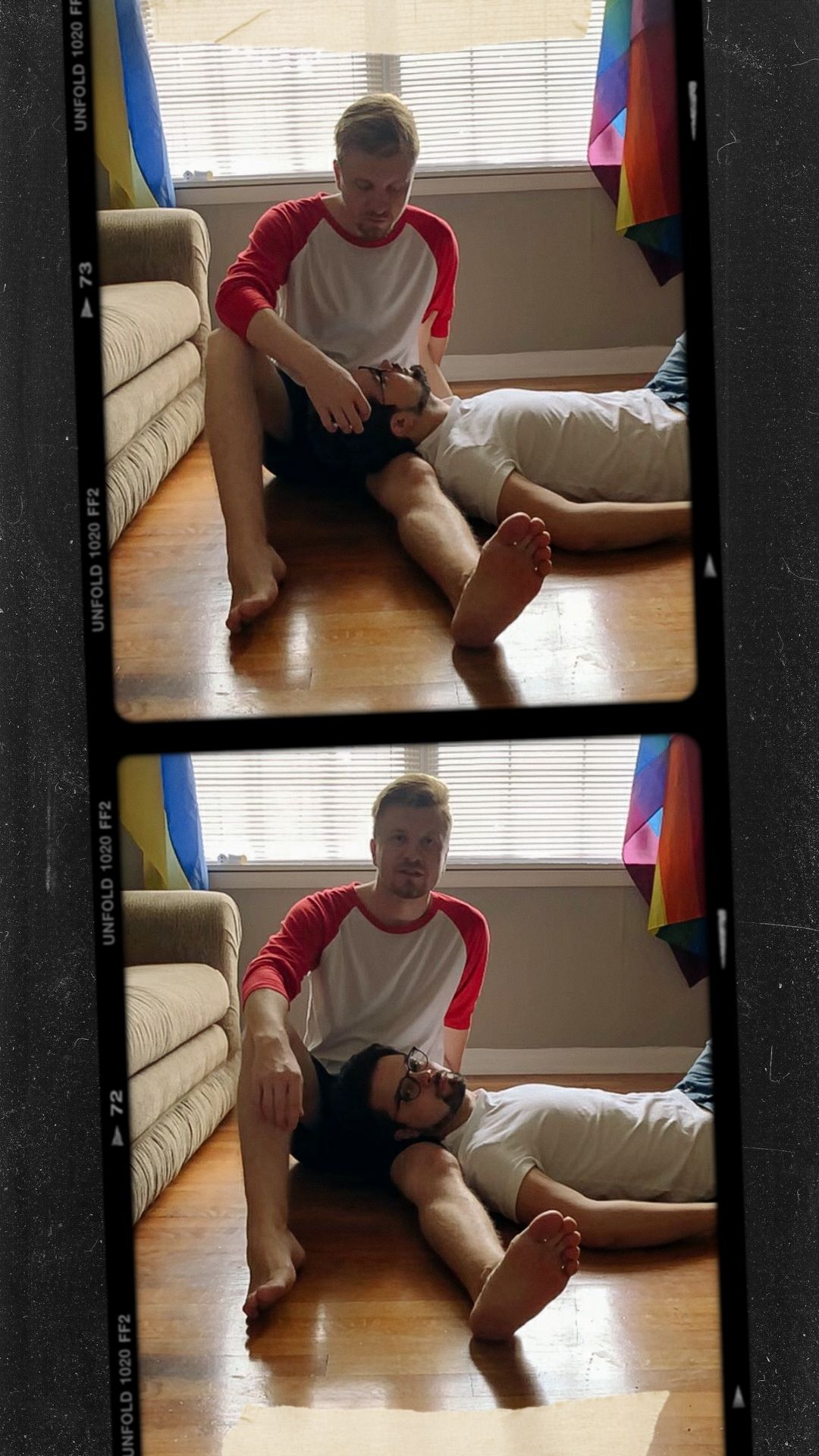 Photo by:
Arthur Aleksanian
We seek to assist Ukrainian LGBTQ + individuals living in the US and Canada to integrate, adapt, and productively contribute to American society.