April 14, 2022
"I am pleasantly surprised how Romania welcomed us". Irpin resident Maria Tiekuch fled the war to volunteer in Europe
Since the start of the full-scale war with Russia, more than 4 million Ukrainians have left Ukraine. Among them Maria Tiekuch and her girlfriend: they are looking for a safe place for themselves and their loved ones to be able to fully help Ukrainian defenders. Maria told QUA where she was when the war started, whether it is difficult for two women to live in Europe, and why leaving Ukraine does not mean abandoning it.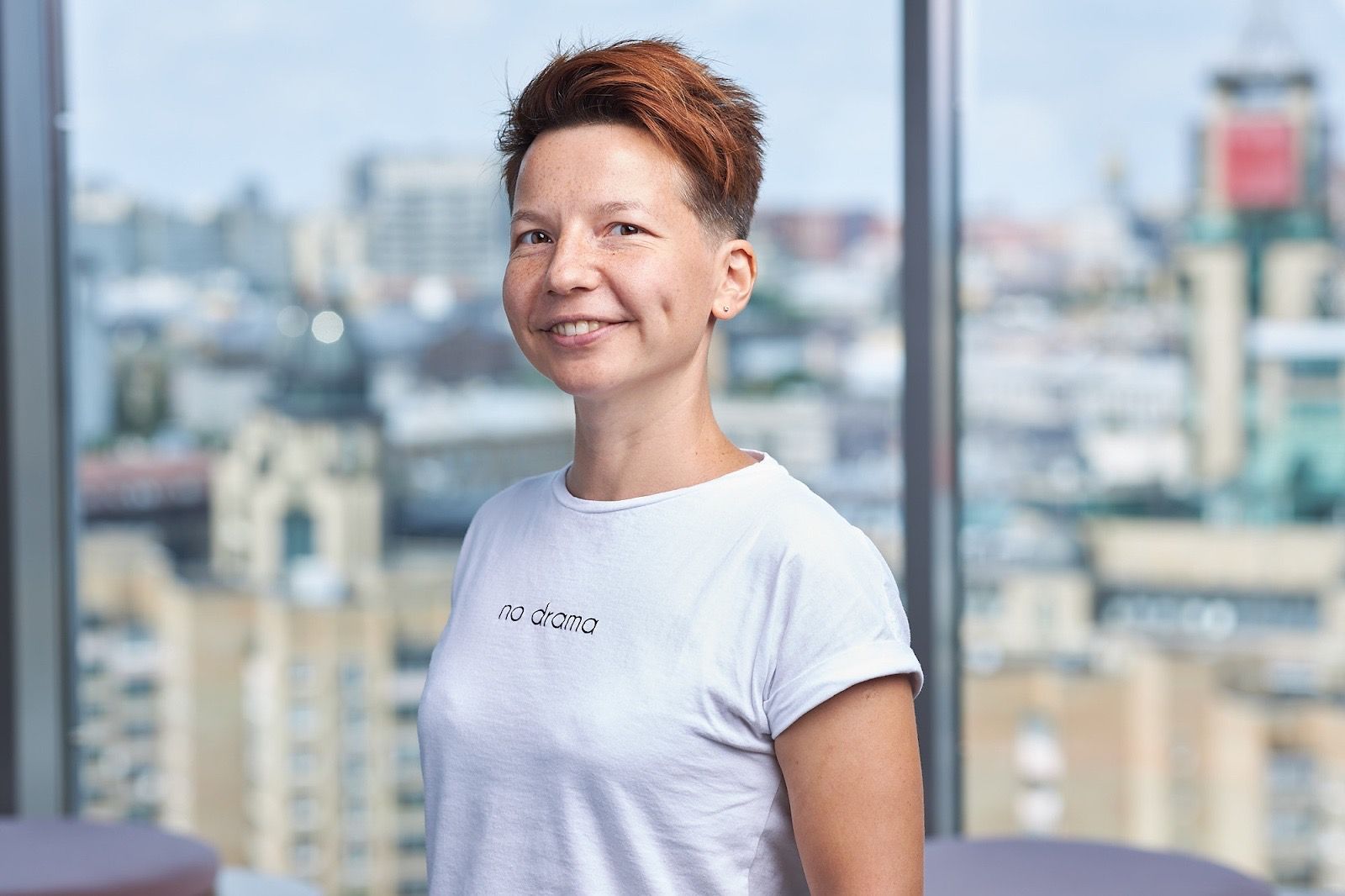 We didn't believe the war was about to start but we were ready
I work for Grammarly, an international company founded in Ukraine. We were advised to leave the eastern regions and Kyiv. I, like all Ukrainians, did not believe until the last minute that there would be a war, but I trusted Grammarly, so I had enough time to pick up my mother from Zaporizhzhia and persuade my girlfriend to leave. The company also helped with logistics, so on February 15, we went to Ivano-Frankivsk. Trusting my intuition, I rented an apartment for a long time as I knew it would be difficult to live in a hotel for two families with dogs.
However, we never lived in that apartment. As soon as I received the keys, I gave them to an acquaintance of my colleague from Kharkiv and a friend from the LGBT community - as a result, five of them lived in that large 100 square meters apartment. And we went to Bukovel. The fact is that on February 24, we, like most Ukrainians, woke up from the explosions because the shell hit the Ivano-Frankivsk airport. There were sirens, and air alarms, my mother was worried, so we didn't want to stay there anymore. In addition, I have an old dog, if you wait until he wakes up, you can no longer rush to the shelter anymore. In Bukovel, my girlfriend's family joined us. We all got together, even spent some time in the fresh air. But then her parents went back home to central Ukraine, where they had a job that could not be left, we decided to go to Romania. We were concerned with the news that in addition to military facilities, the Russians were also aiming civilian infrastructure and killing civilians. My stress level was so high that I was ready to go abroad on foot.
In Europe
Romania seemed like a good option. Hungary opposes LGBT people, and Hungarian is difficult to understand, even intuitively. We did not want to go to Poland either, because there were already too many refugees. In Romania, we found an apartment through our connections, and this apartment was given to us for free - the owners said that they have Ukrainian roots and want to help. Their relatives speak a little Ukrainian, and my mother speaks to them. My girlfriend and I rented another apartment and we are still here in this small town. I am pleasantly surprised by how warmly Romania welcomed us. We had no problems at the border, we passed it quickly - in an hour and a half. Border guards only checked to see if we had any men with us, and even looked in the trunk of our car to find them. Nobody paid attention to the dog, we have already made documents for him in Romania, because we are going to go further. Our next point is Italy. Our colleagues offered us accommodation there, and it will be good if we can live there for free, and then, most likely, we will go to Portugal.
Is it safe for LGBT families abroad?
Before going to Romania, we asked friends from the LGBT community if it would be safe for us to stay there. We were told that more conservative people live in the countryside and less conservative are in the cities, but now no one asks why the two girls are renting a house together. I honestly don't like to hide. In Kyiv, I'm used to feeling free - I don't mean kissing on the street, but I don't hide my feelings. Now we have to be more reserved, because many locals may not accept it. Unfortunately, my colleagues in Poland have already had problems because people do not have same-sex relationships. At Grammarly, we have an association of LGBT+ staff and Pride partners. Since my colleague and I are the facilitators of this association, people tell us about similar cases. We have not had any problems in Romania so far, but we are still not showing our relationship.
To leave or not to leave?
I am convinced that everyone should do what s/he considers necessary, what they believe to be right. If a person feels s/he has to be at the forefront or help take people out of occupied cities, s/he should never leave Ukraine. But if fear paralyzes you, it will make things worse, you'd better leave. I would not be able to get to a safe place and live a normal life as if there was no war. I try to volunteer from the country where I live, and so many Ukrainians abroad do. It is true that there are several fronts - the army, the territorial defense, the volunteers, there are people who help financially, logistically, go to rallies. Everyone must be in their place because if everyone did the same thing, other fronts would suffer.
Some criticize those Ukrainians who have gone abroad. I believe that this is due to fear - it is difficult for people to live in terms of constant stress when there is fighting nearby, and the psyche is trying to find the culprits. At the same time, they are afraid to leave their home. Unfortunately, there are stories when people do not volunteer or leave - it's the worst for everyone. If I leave, I do what I can in a safe place or take care of my loved ones. Staying at home and not helping, because you can't do it, you don't have the strength - is not rational. I've never heard of active volunteers criticizing someone, they just don't care. On the contrary, they understand that people could not stay because they did not have enough resources. I believe that if you stay, then you have to be active. Volunteering from abroad: thermal imagers and drones for defenders
At first, I helped people look for options to leave and supported them psychologically. It is easier for people to dare to leave home when they know that they have transport organized for them, they have a place to live. Unfortunately, I did not organize the evacuation myself, but I connected the links in this process and I know that we have helped many.
Now I work with Help Ukraine Hub, which is run by a good friend of mine. We process requests from territorial defense, the Armed Forces, or from civilians, looking for money, equipment - thermal imagers, special clothing, drones. All this cannot be longer found in Ukraine because we were not so prepared for war. In Eastern Europe the situation is similar, there is almost no necessary equipment left, so we have to look constantly, negotiate and transport it. Our Vika, the manager, went to Poland alone to pick up what was bought. I am very happy to work with them, because they are a great organization, and they really do a lot.
After war
When the war is over, I plan to return to Ukraine, because we still have to rebuild Irpin. There we have an apartment, which seems to have survived. I am not sure that I will live in Ukraine permanently, my old dream is to have a house by the sea, and I want to make it come true. But we will come back one hundred percent to invest in the development of Irpin and help financially.
I believe that after the war, Ukrainians will be at a higher level of consciousness than they were before. For us, the common tragedy was a moment of growing up. Military events close the gaps between people and having one common goal, we will become more caring, responsive, and attentive to each other. Yes, there will still be those who do not like LGBT people and other minorities, but even haters will become calmer. Everyone understands what terrible events we experienced together.
We seek to assist Ukrainian LGBTQ + individuals living in the US and Canada to integrate, adapt, and productively contribute to American society.