Over the years, we have repeatedly heard aggressive calls that "all gays should be sent to Anti-Terrorist Operation (ATO)". Members of the LGBT+ community have defended the homeland for the past eight years, and they are doing it now, during Russia's full-scale invasion of Ukraine. Viktor (we prefer not to mention his surname), the lawyer, has been serving in the Armed Forces since the first days of the war. He is convinced that the common enemy has finally united Ukrainian society and made it much more tolerant of any human manifestations.
By profession, I am an attorney at law and a lawyer in the field of construction. However, I also have a military specialization: I am an officer. For the first time, I was mobilized in 2014 and served for a year, defending Kyiv from possible sabotage. On February 25, I was mobilized again and joined the Armed Forces.
On service
Our subunit is located in the Kyiv region, it guards one strategic object at the entrance to Kyiv. We were in the capital for several days, organized checkpoints, and searched for sabotage groups during the curfew. The curfew is needed primarily so that the civilian population does not interfere with the military when we detect and neutralize sabotage groups. Every civilian in the street automatically takes time from the military to check his documents.
We were in Kyiv for several days. On February 26, a large column of the enemy, which we were to meet, was on its way to the city, but the artillery did their job, and the "tourists" did not reach the capital. Then we waited for a column of Russians moving along another route - they were also warmly greeted by our artillery. After that, we were transferred to the Kyiv region, where we are again looking forward to guests and making a plan of interesting excursions for them. The composition of the subunit and our responsibilities during the service change, but the main task remains the same - to meet the enemy if he moves in our direction.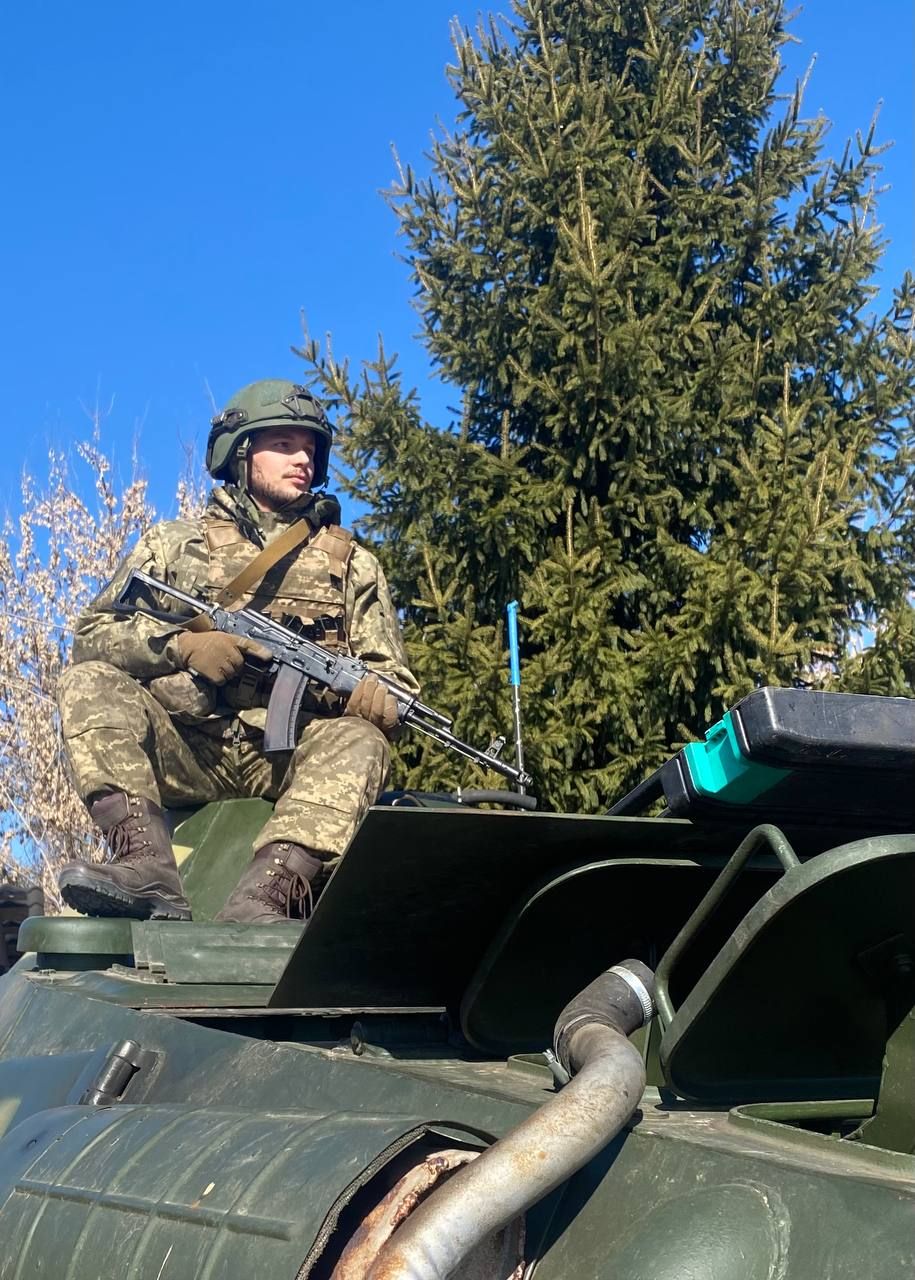 On everyday life and supplies
Our lifestyle now is spartan: we sleep in sleeping bags on mats, there are showers only outside (even at very low temperatures). But the conditions are not the worst ones, we live not in the woods, not in the tents, and we warm up not near the cast-iron stoves. There are slight problems with uniforms. On my part, I can say that I am 90% supplied: there are not enough knee pads, but the main thing I have is a helmet, body armor, and weapons. I remember the uniform I was given in 2014. I washed it twice and had to throw it away because it was old and of low quality. As a result, I wore the one in which I studied at the military department. Now my uniform is two sizes bigger, but it is of high quality. We should not forget that a lot of people were mobilized on February 24, so they simply did not have time to deliver the uniform. I am currently waiting for a new one.
It is impossible to buy individual equipment in Kyiv because everyone buys it in large batches, 600 pieces, and more. The stores were emptied. We are currently ordering uniforms from Poland and Turkey. There are problems with delivery and logistics, the orders are delayed, but considering the situation, it is good that they deliver them.
There are enough first-aid kits, although Ukrainian analogs (according to doctors) are not of the same quality as American or Israeli ones. However, when there is nothing, even a bandage or belt can come in handy. By the way, doctors come to us and conduct training on how to administer first aid to yourself and, if possible, to your colleagues. So we are ready for anything.
On fear
I was scared only on February 25 during the morning air alarm. Friends were texting me demanding to flee to the shelter. I went down to the subway and stayed there for literally three minutes because the atmosphere was very tense. There is no such tension in the Armed Forces, everything is seen differently here. Of course, people are worried, and this is normal, but they look at the situation in a fundamentally different way. I was convinced that hiding in the subway is worse than being on the front line because we are defending our land and are morally ready to meet the enemy. Many of the guys are waiting for this. I am not judging men who go to the west of the country. I am against sending everyone to the front line because there a person must be psychologically ready for anything. Anyone who can help the country as a volunteer, let them do it even from abroad. My friend is in Germany and from there he organizes the delivery of medicines, raises funds for the army. Friends in the western regions of Ukraine are also volunteering, making masking nets, and in Kyiv, they are looking for uniforms and other supplies. Everyone does their job. Even if it's just words of support!
On tolerant attitudes
None of my comrades-in-arms knows about my sexual orientation. I do not hide it, but I do not advertise it either. But even if everyone knows, I doubt that the attitude to me will change. We are a team, we are one family living together from February 24-25. And if we go into battle, these guys and I will cover for each other. We do not know for sure how the one will react when he gets into a critical situation, because each person's psyche reacts differently to severe stress, so the brothers must be there to cover up and help. And my guys, I'm sure, will have my back too. On the unity of Ukrainians and Russian propaganda
This war will unite us as a society. For thirty years they were telling us that there is a western and an eastern Ukraine, we have been deliberately divided, but right now we are witnessing a turning point. Many of my Russian-speaking friends switched to Ukrainian in the last few weeks. I can't say the same about the military, because many people here speak Russian, listen to Russian music, but the guys love Ukraine and consciously defend it. We all need time to become a single nation that has common thinking, moves in one direction, and is independent of external influences.
Remember when this editor of the Russian First Channel came out with a poster, some of us immediately believed her and started saying that the Russians are not so bad. But she worked on television for years, instilling in the brains of her compatriots lies about nationalists and Banderites… It's just ridiculous. I tried to communicate with Russian acquaintances who do not tolerate the war in Ukraine, but they have also been listening to it for years. I removed many from my friend lists on social media and wrote that while the war is going on, I did not want to communicate and spend my energy explaining the truth. They believe that we, not Russians, are dropping bombs on civilian targets, and I do not have the time or opportunity to deny this - I must save my resources to protect Ukraine's borders.
Every revolution that has taken place in Ukraine has become another element of unification, and the war is the biggest step forward. If Russia has been ruining its army for years, it has been making ours stronger since 2014. We have learned to act in critical situations, to repel the enemy, to do things together despite differences we have. But we still have to work and work, to restore the infrastructure, to rebuild the shattered cities. And, unlike the post-World War II construction process, we will make them convenient for residents.
How long will all this take? Unfortunately, I am convinced that Putin will act till the last because he has nothing to lose. However, he is not the only one to blame for the war - the Russian nation is also personally responsible for this, silently approving the actions of its president for years. For our part, we are guilty of supporting the idea of fraternal peoples.
In fact, we are mentally different, and now it has become obvious. Our society does not give prominence to the army, power, and people, we do things together. There would be no army without volunteers because since 2014 they have been delivering the necessary things to the units. We in the Armed Forces feel the support of everyone - the president, who remained in Kyiv, although he was proposed to leave, and members of parliament who work and volunteer, organize the evacuation of people from Irpin, Bucha, Vorzel. The support of civilians who are in bomb shelters, who trust us also helps. In Russia, such standing together is impossible to imagine. Finally, the whole world - and we - have realized that Ukraine is not Russia, and we will never be together again.
We seek to assist Ukrainian LGBTQ + individuals living in the US and Canada to integrate, adapt, and productively contribute to American society.